Compliance Officer – Investment Management

Working at Privium Fund Management means you will be working in a growing but immensely professional company. As an independent, global investment management firm Privium works in partnership with investors over the world to develop, structure and manage alternative investment strategies. Our global team consists of 35 employees and approximately 100 investment professionals. For our team in London we are now seeking a self-motivated and organized Compliance Officer to lead from the front and build a team as we grow.
Privium Fund Management (UK) Limited ("Privium") based in London is authorised and regulated by the Financial Conduct Authority (FCA) to undertake investment management and investment advisory activities as a Collective Portfolio Management Investment Firm (FCA firm reference number 471186). 
Privium's regulatory approvals enable it to manage and advise Alternative Investment Funds (AIF's) and UCITS as well as managing discretionary accounts.  It has relationships with a number of Portfolio Managers and Appointed Representatives (AR's) to whom it provides an appropriately regulated infrastructure in which to carry out these activities for Professional Clients and Eligible Counterparties from the UK.
Privium works in partnership with these talented portfolio managers and investment advisers to provide them with a robust, regulated, operational environment in which they can focus their investment expertise on their own funds, managed accounts or clients whilst benefitting from its knowledge, experience, and infrastructure.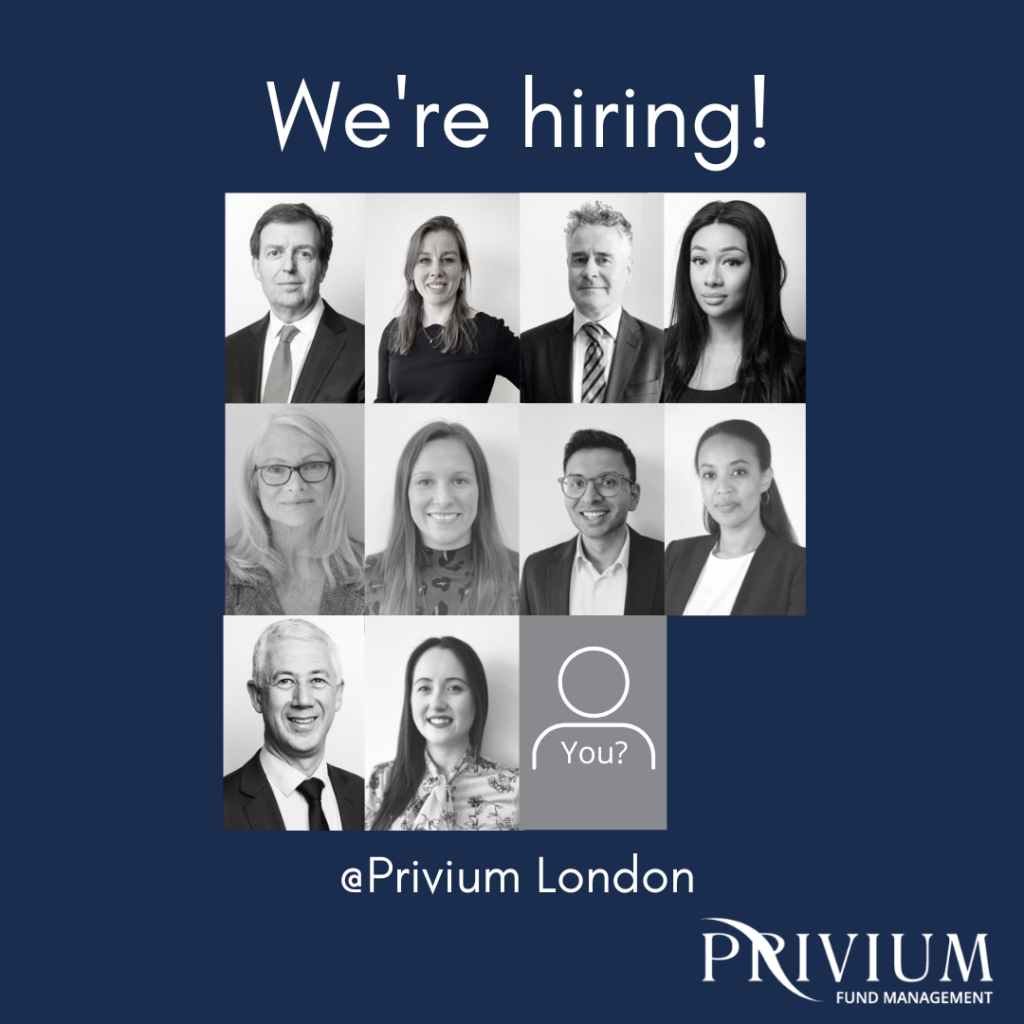 We are seeking a new compliance officer and MLRO to lead from the front and build a team as we grow. As Compliance Officer you will take on the Senior Manager role of SMF16 and take on the role of Money Laundering Reporting Officer (SMF17). You will be leading and managing a team providing direction, support, advice, and guidance both internally and externally. A key objective is to ensure that our AR's and portfolio managers understand and adhere to the regulatory framework in order that Privium can meet its current and future regulatory obligations.
The ideal candidate will have worked in a similarly regulated environment for over 5 years and have an understanding of FCA regulatory requirements for the investment management industry.
Managing the Compliance team (team of 4) day to day and providing them with guidance in a dynamic investment management environment.
Supporting the firm with the on-boarding of new clients to establish appropriate compliance infrastructures including due diligence and AML checks, seeking approvals and setting-up monitoring programs.
Working with new Portfolio Managers/Appointed Representatives to develop and implement the necessary policies and procedures.
Coordinating on-going compliance monitoring including liaising with the Company's Appointed Representatives to arrange meetings and reviews; participating in compliance reviews and instigating appropriate follow-up actions.
Providing compliance advice and training to Appointed Representatives and portfolio managers.
Preparing compliance reports for the Board.
Maintaining the Internal Capital Adequacy and Risk Assessment.
Perform the compliance training program in the UK, creating awareness of firm policies and procedures as well as FCA rules.
Identification, assessment, and mitigation of regulatory risks.
Maintaining records and registers; regulatory reporting.
Develop and manage effective relationships with external compliance advisors.
Qualifications and other requirements:
A minimum of five years of compliance-related experience with an FCA registered investment management firm.
University degree in finance or accounting; lawyer a plus.
CISI Compliance Diploma or similar
Prioritisation skills and/or experience working with client demands; solid time management skills, the ability to see the big picture.
Prior work experience in providing compliance advise to Appointed Representatives and portfolio manager a plus.
Familiarity with FCA systems (RegData, Connect, Online Invoicing System) and reporting, including an understanding of financial and Annex IV returns.
Experience of project work such as implementing new FCA requirements (e.g. MiFID II/AIFMD/SMCR/IFPR)
Strong teamworking mindset; experience working in and building a team environment (willing to interact with Front Office/Legal/Risk on certain tasks).
Excellent verbal and written communication skills and the ability to communicate effectively with people in a variety of relationships and situations.
You'll be joining a dynamic and collaborative team in London with around 12 colleagues in different disciplines with a diverse range of backgrounds and experience.
An opportunity to build a team with further growth of the company.
Close interaction with the Compliance Officers in the firm's international locations.
Working independently within a supportive environment.
This is great opportunity to work with wide range of portfolio managers within the investment management industry.
The role is fulltime or open for part-time working with a minimum of 30 hours a week.
Hybrid working; so that we can all benefit from working together in person, while maintaining the flexibility offered by home working.