Privium Fund Management is a leading edge professional financial services organisation with a proven track record in investment management solutions
Fund setup
The set-up of a fund is a delicate task to ensure that you build something that will help you at the start, support you during the growth and is flexible enough to cope with different demands from investors.
Privium is your international partner in getting it right.
Existing Fund Manager
The development of an investment management business may need dealing with different feeder structures, managed accounts or regulatory demands.
Privium will support you in your growth.
Investors
Investing in hedge/private equity funds is a process where you want to benefit from the broadest possible expertise.
Privium has the experience and expertise that will help you in making the right selection.
Interested in our services?
✓ Efficient and cost-effective
Welcome
Privium Fund Management ('Privium') is a leading edge professional services organisation with a proven track record in investment management solutions.
Privium offers a head start to best in class portfolio managers.
About us
 News
Proud to announce: Privium Fund Management is for the fourth time one of the fastest growing companies in the Netherlands! This makes us FD Gazelle 2019. On 14th November we will receive this prestigious entrepreneur's prize from Het Financieele Dagblad.
See our LinkedIn message.
The Horatius Fund is the winner of the HFM European Emerging Market Award (category Fixed Income: Under $100m). Congrats!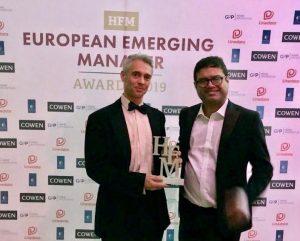 James Sclater (left) receives the award.

Worldwide Presence
Privium has offices in London, Amsterdam and Hong Kong. It also operates umbrella fund structures in Luxembourg and the Cayman Islands. Our London office and our UK activities are FCA regulated. Our Dutch office is authorized and regulated by the AFM. Our Hong Kong office is authorized and regulated by the SFC. Our Luxembourg office is authorized and regulated by the CSSF.
Contact us